India's Meaning Of Life
I believe that life is a continious process of action (both proactive and reactive) for existence. Its nothing but struggle for existence till it ends, applicable to all forms of life not just humans and animals but just plants and insects also. The meaning of life is nothng but taking as it comes
I believe that life is a continious process of action (both proactive and reactive) for existence. Its nothing but struggle for existence till it ends, applicable to all forms of life not just humans and animals but just plants and insects also. The meaning of life is nothng but taking as it comes to us, trying every moment t be in a comfortable position and also passing on the same life to other times (generations). Life is nothing but struggle for existence for a moment of time when compared to the infinite time passing on from moment to moment.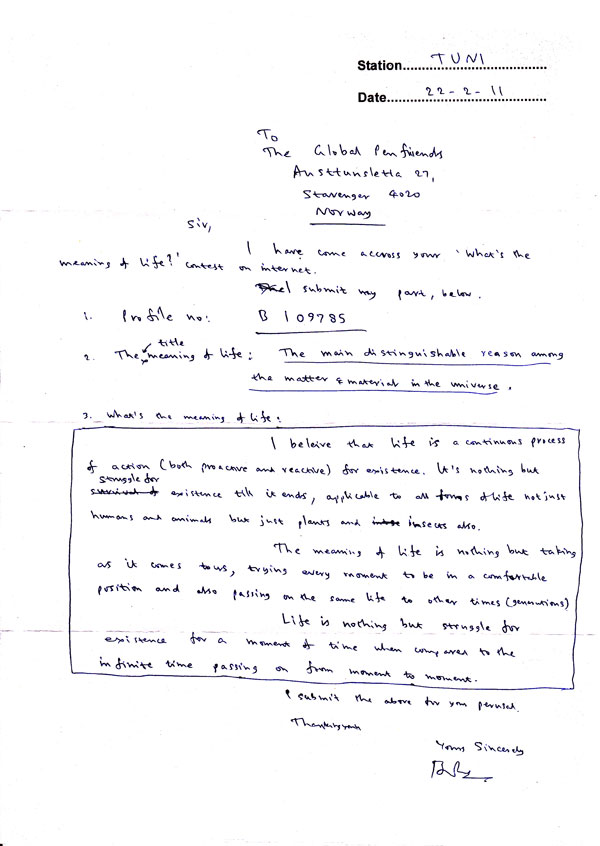 Having Peace of mind and Tranquility
Life to me is, living to the fullest extent. Though it is easier said than done, having a positive attitude and a spiritual bend makes life easier to live to the fullest. This has so far been true in my life. I have had the satisfaction of achieving my goals in life and living the way i always desired. Life so far, has taught me worthy lessons and I'm still learning through new experiences along this journey .With each passing day, I have become a better individual and learned to appreciate the contribution of my family and friends to my success. Sometimes I look back and wonder how circumstances have somehow turned out, despite obstacles, to let me enjoy the fruit of success. Life has taught me that caring and showering love to our dear ones, without having to compromise on our individual goals is the key to a successful life! Although, every one of us has our own desires and parameters to success, having to live each moment with the truest of emotions and having peace of mind and tranquility is my answer to the meaning of life.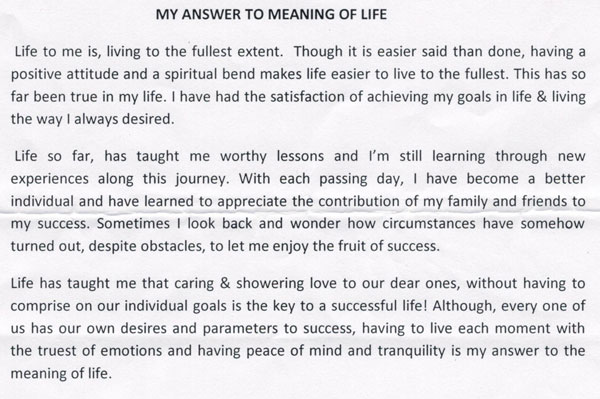 Make a difference
Meaning of life is to make it meaningful. Be proactive, give your best in whatever you choose to do. Life is organic and complex. It keeps getting destroyed, diseased, challenged, grow and evolve. Meaning of life is to play with younger sister, enjoy with friends and live with parents. It is to interact with others, to socialise, to communicate, to differ, to win, to lose, to adapt, to make mistakes, to overcome challenges, to learn and to improve. It is to travel and experience different cultures. It is to learn to cook a new dish or to play a new games. It is both study hard for exams or run away from all the painful and difficult things. It is not in perfection. It is both in getting up early doing skating or sleeping till late. It is even in getting lost in all the absurd dreams we dream. It is in our heartbeat, a smile or the air we breath. At the end of it meaning of life is to make a difference that you existed at all, to try to be true to your self at least in some ways to make an impression.