Japan's Meaning Of Life
2 Entries Found!
To be honest. I'm not sure what the meaning of life is. Everybody has a different interpretation, and it also changes as you grow older. When i was a child growing up in Tokyo, Japan, my meaning of life was to cherish friendsand belong to a group. Every year I looked forward to the summer festival to enjoy traditional foods, fireworks and wearing simplified version of the kimono.
When I was a teenager, I moved to Central America with my family. My meaning of life shifted more towards love and relationships with a boy. I was already thinking of marriage and children with someone that I wasn't even that happy with. I neglected my family and socialised with them only on special occasions.
When I was in teh US for university, I noticed that my dorm mates always called their family. I thought back on my family trips and how I was always so unhappy because I wasn't with my friends. My meaning of life since then has expanded to not only treasure friends, but also family, co-workers, the 7 eleven clerk, even a stranger who did a kind gesture.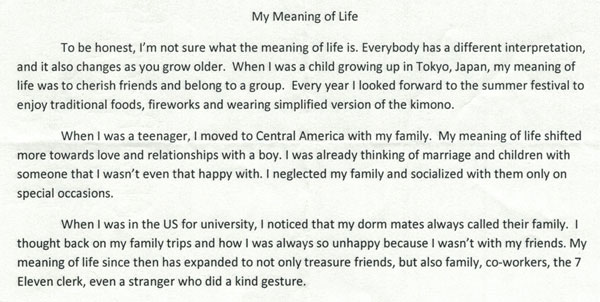 What is the meaning of life? What I've been thinking about.
I believe the intellectual history of human beings has started in serach of the meaning of life because human beings became spirituallyhuman when they began wondering about it. Human beings are the only kind which commit suicide. if we don't despair of life, we never commit suicide. Because we take it seriously, some found religion and some found philosophy. Does it really exist? We don't know. Because we never know it, we keep searching for it. That's how the search of the meaning of life moved the civilisation forward. We run through life continuously thinking about it. Some might fint it or just believe they found it. The truth lies in darkness.
What is the meaning fo life for me? I haven't foun d it yet. Nevertheless, life goes on. Sometimes life is too hard to keep going, but as long as we are in search of it, we stick to the life, believing tomorrow is a better day. I want to do good for others even a little bit. This is my life, but it'snot only for me, still searching what I can do for a better world.