Ukraine's Meaning Of Life
2 Entries Found!
Life is a Story
Life is a story. A fairytale, and we are is scriptwriters. Our mission is to fill it with love, joy and fun. At the same time, we must save it from war, grief and bitter tears and then, when the life is almost wonderful, make sure that you have a real friend who can help you to continue improving your life.
As for me, I can describe my meaning of life in a few words. At first, to make my family happy and healthy. Secondly, to stay cheerful and always have some hopes. I'm a songwriter, so music is also my meaning of life, cos I can't imagine my life without it. Finally, my meaning of life will be my future family, especially children.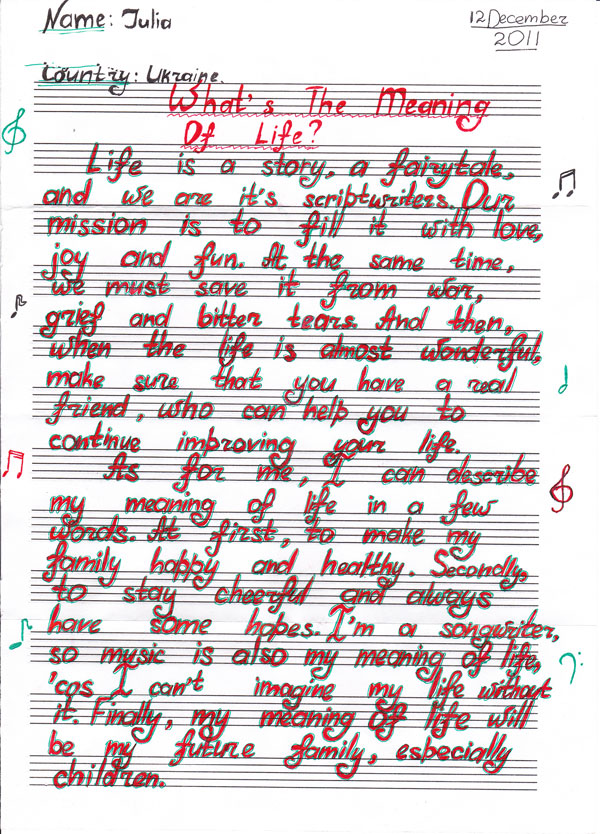 The answer on this question I discovered hardly. Long Time I meditated about it, were interested in other opinions by their meanings, fitted it on to myself, meticulously searched what would resonate with my soul.
There were great variety of variants: satisfaction, money, devotion to someone or something, love, visiting some places, buying some stuff etc. But it wasn't match to meaning of whole life for me. Because my real passion was self improvement. Exactly permanent diverse self improvement indeed makes me happy.
And I'm sure that it is very naturally. We coming to whis world absolutely clean, without any skills, knowledges, capacities. And since our first seconds begining to learn new different abilities, thereby self-improving.
Growing up, developing and flourish - it is a law of Nature, law of surviving. Animals and plants improving unconsciously, yet we have such remarkable privilege as choosing the way we further developing consciously.
Any person can become anyone he desires, reach everything he needs, when he owns enough motivation to act, to self-improving. Lets appreciate and use it to make yourself happy.